Bioretur AS – The Story of Organic Waste Management from Land to Sea
Bioretur was established in 2014 as a disposal service for horse manure. Founder Steinar Wasmuth himself operated a farm and equestrian center at Bontveit near Bergen in Norway. Like many others, he faced significant issues with the collection and disposal of horse manure.
Horse Manure and Fertilizer Factory in Bergen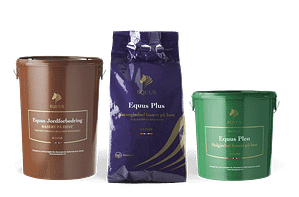 In 2015, the production of the organic fertilizer Equus was initiated at the fertilizer factory in Arna outside Bergen. This fertilizer was created using horse manure collected by Bioretur from horse owners. The product line consisted of Equus Soil Improvement, Equus Lawn, Equus Plus, and a special Equus Potting Soil produced in collaboration with Tjerbo AS. These products were available for sale until 2020 through the wholesaler LOG and selected OBS Bygg stores.
Waste Management for Fish Sludge
Over time, the Bioretur service agreement was also established for the aquaculture industry. The challenge was waste management, particularly regarding fish sludge. Fish sludge accumulates in large quantities at aquaculture facilities or is released into marine environments. Fish sludge contains substances such as nitrogen and phosphorus, which have unique properties, especially if used as ingredient in fertilizers and soil improvement products.
Bioretur sets up and operates customized sludge treatment facilities, directly linked to existing aquaculture facilities. The dried sludge is transported further and utilized as raw material at centralized processing facilities.
This post is also available in: Norwegian Bokmål